Our previous theme dealt with the inside of Lusaka. Our pictures showcased a diversity of what the inside can come to mean, and what stood out the most from these pictures was that the 'inside' lends a certain level of intimacy to space and objects; perhaps this was peering out of your house window through the curtains or the picture of Jesus on the wall next to your clock. Space plays an important role in our conceptions of the inside and intimacy, and it becomes a part of our everyday because we tend not to question its authority. We forget that walls and ceilings limit our movement – our feet can only tread certain paths and pictures can only hang on certain walls because of them. We feel claustrophobic in tight spaces, but maybe also more at home; free in open spaces, but also lonelier.
How could we conceive of space without buildings? Our everyday existence is bordered by bricks and cement. Most of us sleep, work, pray and even exercise in a building, and if we don't we are usually labeled as socially defunct. Essentially buildings distinguish between the 'inside' and the 'outside.' However, people seem to be more interested in photographing the exterior of buildings, the interior being too bland a subject. There seems to be something ephemeral about the façade of a building, as if it speaks to us directly. The language is mysterious, made up of curves and straight lines, brick and concrete, of malls and government buildings.
So for our next theme, we are going to be focusing on the buildings of Lusaka, both inside and outside. Lusaka is a mishmash of different architectural styles. The post-independence government buildings of the 1960s and 1970s stand next to countless new shopping malls (which seem to occupy every known inhabitable area); middle-income residential areas, 'compounds' and old blocks of flats are often a walking distance away from each other. There is a consistent and worrying lack of urban and town planning, but Lusaka does not feel like an unplanned city; rather it feels like a city wanting to break free, yet cannot. It cannot organize itself to transcend its potential.
Our photos will deal with the iconic and the mundane, the beautiful and the weird, but what will sustain all of these photos is a unreserved belief in the everyday. Take for example the Findeco building shown above – it is instantly recognisable as an icon of Lusaka's cityscape. Its conspicuousness does not make it any less a part of the everyday, the 'everyday' does not mean 'hidden.' I'd like to think that the ascetic appeal and appreciation we feel as we're heading towards the Kafue roundabout is a part of our everyday. Or take another example – the agricultural hall also shown above; it is tucked away somewhere in the showgrounds. It has no real impact on the everyday other than its existence; perhaps then buildings, like people, thrive on their ability to exist. The everyday is euphemism for living, and we intend to document this living diversity in Lusaka.
That being said, we wish not only to document the everyday through buildings, but also to try and discover what is meant by the 'facade,' that defining feature of the building. The picture above of a cooling tower near the centre of Lusaka; a blunt facade – does it even have a facade? Where is its face, or is it not supposed to have one – a building without character. But character screams out at us! Its domineering figure looms over us, but the rounded edges begin to take on a meaning contrary to that – almost soft in its appeal.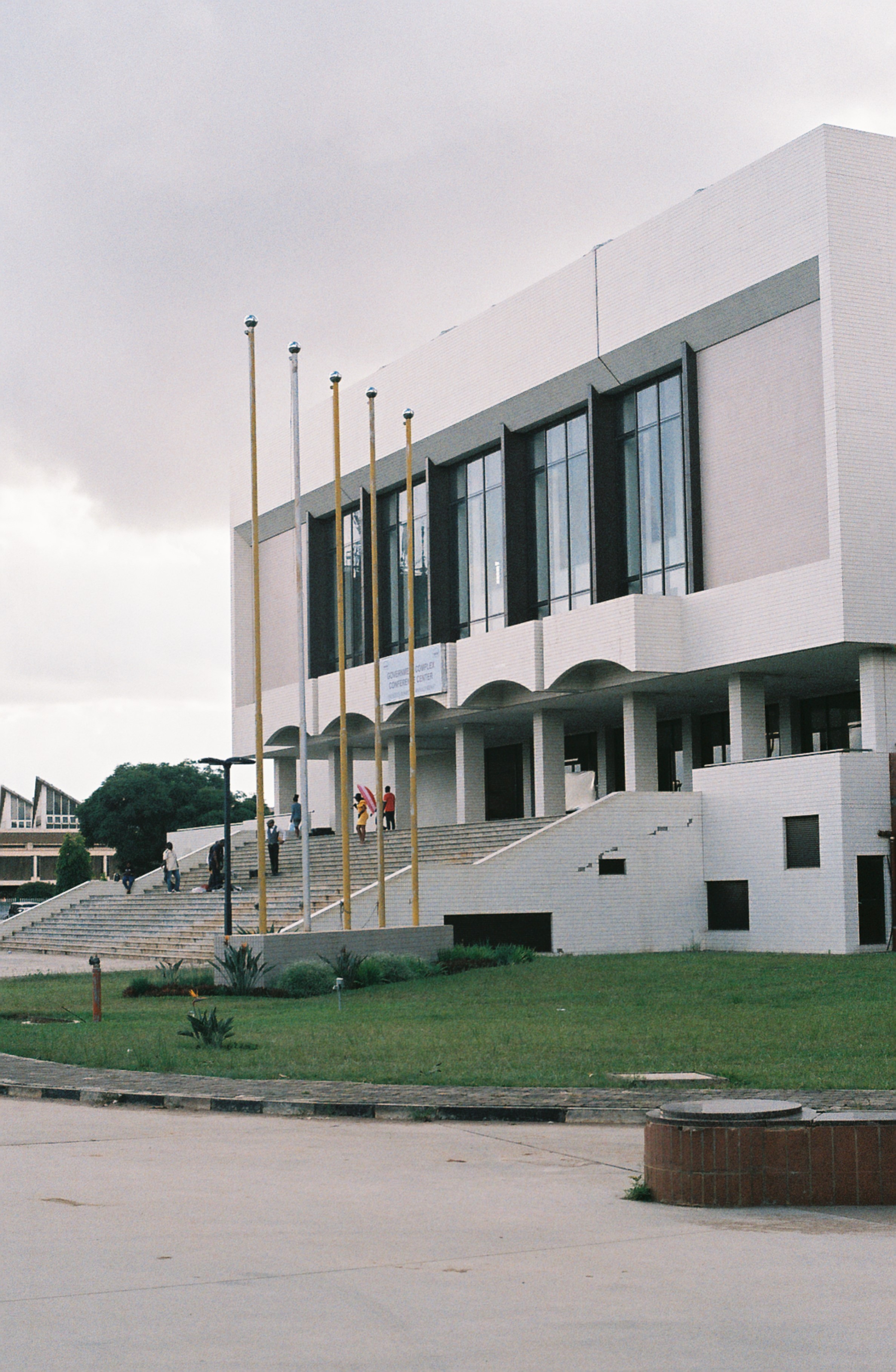 All that being said, perhaps the ultimate appeal of buildings is their ability to mimic our desires; the greatest appeal of a building is that we see ourselves in them. Buildings rise out of the ground from all angles, twisting and turning to be free from the earth which bore them, fighting the wind and the rain and the sun to be the last one left standing. Is it so different from us who try and conquer nature at every turn? Perhaps more than mimicking our desires, buildings are the tool for us to accomplish our desires. We conquer nature through buildings.
Yet I have a feeling that all these buildings softly giggle to themselves as we walk by. After all, they'll probably be here long after we die.
– Sebastian Moronell.